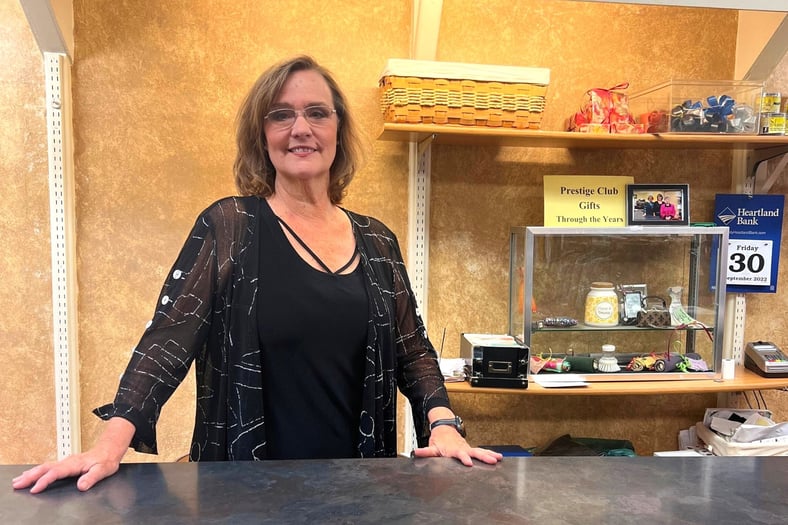 The current owner of Cumberland's Fashions, Patty Roper-Epperson, is proud to be a third-generation owner of her family's business. She loves providing amazing customer service to her customers and dressing them for all of life's events.
A $20 personal loan from Earl Wilkins in 1945 gave Patty Roper-Epperson's grandmother a chance to open what would become a Geneva staple - Cumberland's Fashions. Earl Wilkins served as the President of Geneva State Bank for nearly 40 years and is the grandfather of the current Chairman and CEO, John Wilkins.
Patty's grandmother opened the storefront while her husband served in the military during World War II. The store offered women's clothing and housed a beauty shop in the back of the store, which brought a good amount of foot traffic into her new business. When Patty was in 8th grade, her grandmother offered her a position in the store, and she quickly became part of the next generation to run Cumberland's.
Fast forward 77 years, Cumberland's Fashions remains a family-owned business focusing on women's clothing. Patty has run the store for 50 years alongside her mother (Judy) and her aunt (Mary). Her favorite part is getting to know the customers and her community. Cumberland's has solidified their spot in the center of Geneva's business district by providing an accessible shopping experience for both the young and the young at heart. Patty loves seeing 4th generation customers in the store and is very thankful for their loyalty and trust in both her and the business over the years.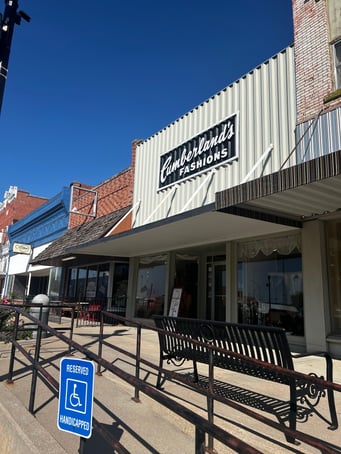 Cumberland's Fashions carries a wide range of sizes from 2-24w, including petite and plus sizing. Patty and her team can find you the perfect outfit for work, casual, business casual, events, and everything in between. Patty said, "we believe our customers are our best advertisement." Ensuring their customers feel good and look good is one of their biggest goals. Patty emphasizes the customer service she provides to her customers and shows them that she goes the extra mile by standing behind all of the store's merchandise.
Cumberland's relationship with Heartland Bank began early and has continued through many different phases of the store. During Covid, Patty appreciated how thoughtful Sheila and the rest of the Geneva branch were. Heartland Bank associates would frequently stop into the store and see if Patty had any deposits that needed to be made or would offer to run change orders by her shop since the buildings are so close.
Patty enjoys working with Heartland Bank because she notices the same values that she shows to her customers at Cumberland's. Generational loyalty that is built on trust, tradition, and excellent customer service is something you can't find everywhere.
Patty advises anyone wanting to start their own business to "be prepared and have your ducks in a row." She also notes that going the extra mile for customers says more than words. She truly believes in the power of providing a customer-focused experience and knows that her customers are the best form of marketing.
Visit Cumberland's Fashions on October 23rd to celebrate their 77th anniversary. The open house event will feature in-store shopping specials and cookies and coffee.
Cumberland's Fashions is located at 848 G St. Geneva NE 68361, and their regular business hours are Monday - Friday, 9:00 AM - 5:30 PM, or Saturday, 9:00 AM - 4:00 PM. Patty also accepts appointments outside of these scheduled hours if needed. You can also keep up with Cumberland's Fashions by following them on their Facebook page.
Behind the business is a feature series highlighting and giving back to the businesses behind Heartland Bank. Our customers do not pay to be featured.
Get the latest news & stories in your inbox!