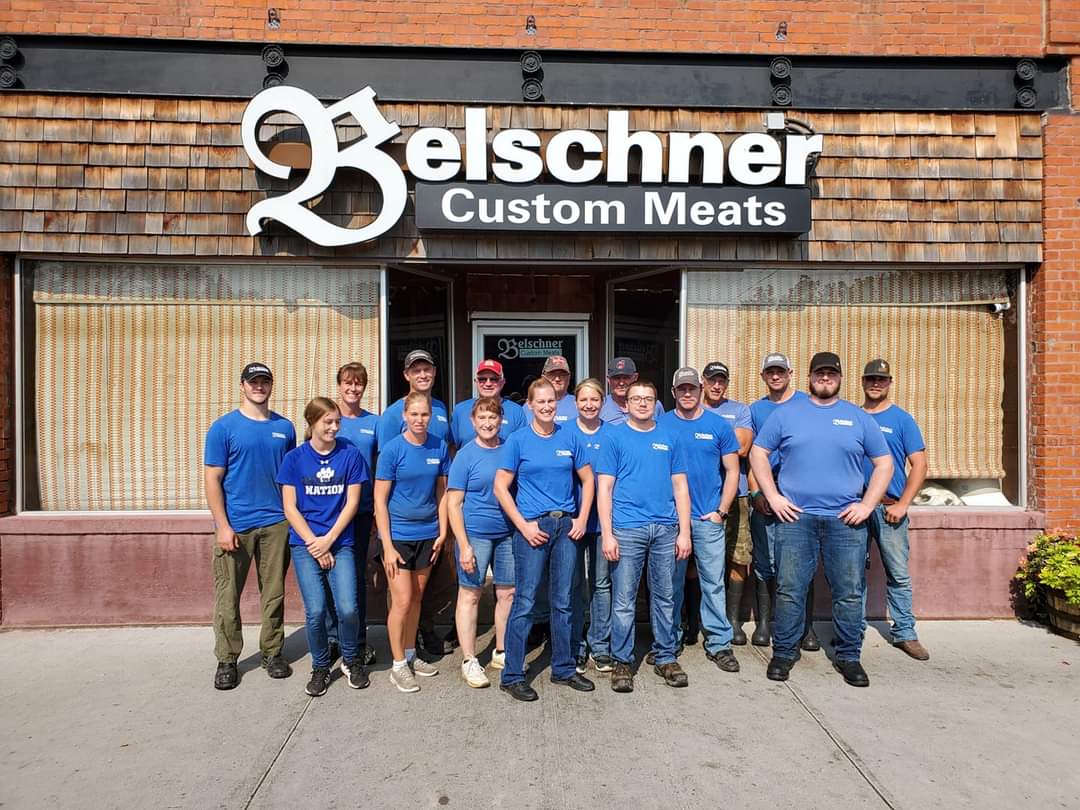 Richard Branson, British billionaire, entrepreneur, and business magnate, once said "Big business starts small," and for Casey Mitchell, Owner and President of Belschner's Custom Meats, that sentiment couldn't be more true. Belchner's Custom Meats started in 1892 as a general store in a small wooden building with 4 employees, selling general merchandise like flour, sugar, milk, eggs and gunpowder.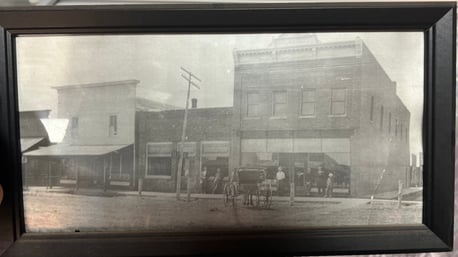 In 1910, the original wooden building was torn down and the current Belschner's location was built. In the 1950s, when Kearney began offering more grocery items, Belschner's pivoted to focused on custom butchering, a niche market bigger box stores couldn't offer.
Casey graduated from the University of Idaho in 2001 and moved back to work for his grandpa, who had kept the business in the family for three generations. At the time, four employees processed 6-8 beef a week and 12 hogs a month. In 2002, Casey purchased the business from his grandpa, becoming the fifth generation owner.
After ten years in business, Casey recognized more potential growth and invested in a 25'x80 foot expansion to double his operation. Today, Belschner's Custom Meats has about 15 daily employees, and consistently processes 36 beef and 24 hogs per week.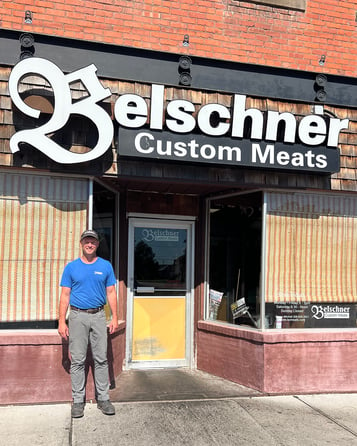 What sets Belschner's apart from other meat processors is the custom processing. Producers bring in their beef, pork, buffalo or deer with a customer's name and phone number already attached. The animal is processed and dry aged for 2 weeks. Customers are then asked for cutting instructions online or over-the-phone, so when it's time to package the meat, the customer receives portion-sized cuts already frozen, exactly how they like. Belschner's then coordinates payment for their processing fees, but also collect money from customers to pay the producer providing the meat, a service many meat processors don't offer.
About 5 years ago, Casey realized the need to streamline his business's processes to be able to scale. With the help of Intellicom in Kearney, Casey built a software program, called My Locker Site, to better communicate with producers and customers, and diversify his business. Just like you get a text to confirm an upcoming doctor's appointment, customers can submit cutting instructions through the Belschner's website, and receive text message reminders when their meat is ready for pick up. Producers also receive text messages to remind them of upcoming drop-off dates. Internally, employees easily pull up cutting instructions on a computer screen, invoice any billable items and file the cutting instructions away without worrying about a paper notecard. My Locker Site has enabled Casey and his staff to better communicate with 160 customers on a weekly basis.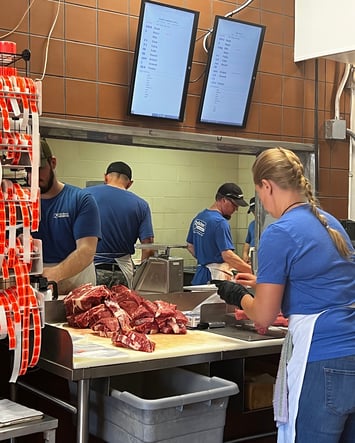 As the need for a software program like this for the meat processing industry grew, Casey has been able to work with meat processors in Nebraska, Kansas and Delaware to help streamline their operations as well.
Casey's future plans for Belschner's Custom Meats is to hone in on their niche, and continue the quality they provide to their customers. The business is in its third year of consistently processing over 40,000 pounds of meat a week, and Casey wants to ensure the size of the business doesn't decrease the quality.
For Casey, the most rewarding part of owning Belschner's is seeing his ideas come to fruition, and watching the business grow through hard work and talented, knowledgable employees.
Belschner's Custom Meats is located at 110 South Main Street in Amherst, Nebraska, and is open from 7:30am-5:00 Monday through Friday and 8:30am to 12:00pm on Saturdays. Learn more about Belschner's and their services on the website, follow them on Facebook and submit custom cutting instructions through My Locker Site!
---
Behind the Business is a feature series highlighting and giving back to the businesses behind Heartland Bank. Our customers do not pay to be featured.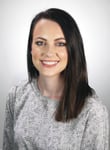 Sarah is the Media Specialist at Heartland Bank. She graduated from Nebraska Wesleyan University with a degree in Communication Studies. Sarah enjoys spending time with her family and friends and organizing and decorating her home.
Get the latest news & stories in your inbox!