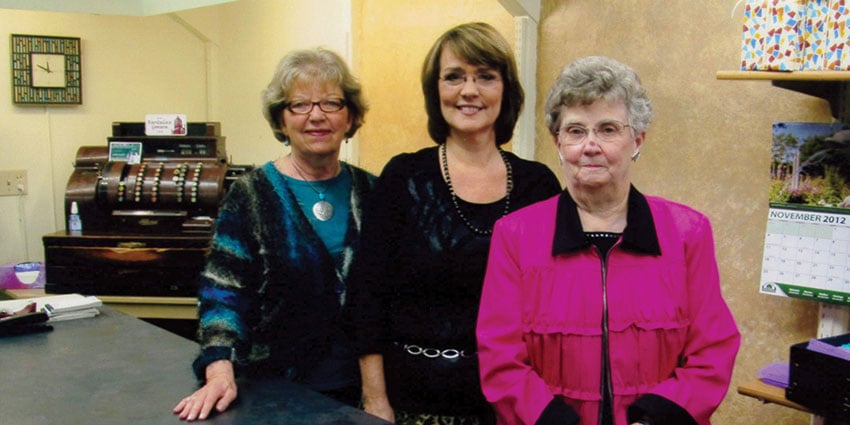 Seven Decades of Style and Personal Service
When Valeria "Pat" Cumberland opened the doors to Cumberland's Style Shoppe in 1945, she needed money for the cash register. She turned to her banker, Earl H. Wilkins of Geneva State Bank, who loaned her $20 from his own pocket. This became the first cash to trade hands in the store's history.
"I still have customers who come in and say they can picture her behind the counter," Pat's granddaughter, Patty Roper Epperson, says, as she pauses to answer a few questions between customers.
In October, that anecdote and the business will turn 70 years old. Seven decades. Three generations of family ownership.
The main street store outlasted Geneva's JC Penny and Montgomery Ward stores under Pat's direction. Today, in the age of online shopping and destination malls, Cumberland's (now Cumberland's Fashions) routinely draws customers from a 120-mile radius and has a customer list with zip codes in multiple states.
The shop's specialty lines, niche approach, and personal service contribute to its success. But Cumberland's is fundamentally the story of two women, close in life and business.
"My grandmother, she knew what she wanted and how to make it happen," Patty said. As her grandmother became a self-assured business owner, her style also portrayed it. "Her hair was
always done. She was always dressed, and she always looked nice. She loved to be around people and wanted to make people look good."
Pat's early customers remember the days when there was a beauty salon in the back of the shop. It's gone now, but Patty has kept two fixtures that are so integral to Cumberland's identity that no one can imagine the store without them.
The three-foot square floor grate that was adored by customers for its soothing gusts of warmth now serves as cold air return.
Patty also preserved the immense cash register, which was purchased by her grandmother in '45 from a grocery store closing in Ohiowa. The National brand cash register's sheer size and historic character "always causes conversation," Patty mentioned. Its drawers have never quite shut in her recollection. A matching version in the Pioneer Village in Minden is the only peer that she is aware of.
Patty joined Cumberland's in 1972, when her grandmother asked her to work over the summer. Work and family were usually separate per her grandmother's rule, so 13-year-old Patty felt honored.
"I was very shy, so she may have been trying to help me overcome that. Later, I realized she was also losing her high-school help. It was probably a little of both. We were very close," said Patty.
When Patty's grandfather died, Patty stayed overnight with her grandmother for a long while, helping to fill the silent house. In turn, Pat taught her granddaughter the business' secrets and subtleties: lessons about quality, long-term help (crucial blessings), and that one can gauge demand, but can't control supply. This lesson came from Pat's famed chenille bathrobe story. When she ordered the trendy robes her first year of business, she received only half. She ordered extra the following year to be safe and received more than she could sell.
Patty lost her shyness and mastered the talent for making people look and feel beautiful. "I'm known for being honest and telling you truthfully: 'That looks really nice', or, 'Let's try something different'…I can look at most people and tell them what size they are and what their figure issues are."
What is Patty's style? She likes black with pops of colors, skirts with pretty, comfortable shoes, and dressing up every day.
When Pat passed away in 1994, Patty, along with her mother, Judy Ousey and aunt, Mary Bruning, decided to continue the store together. Patty became the hands-on manager, and the three work together on buying strategies and advertising. Today's store includes personal buying for local and out-of-state customers.
"We know our customers' likes and dislikes so we can send them clothing and accessories. It's like getting their care package from Cumberland's," she jokes.
Patty also added a Prestige Club, which rewards club members with discounts, events, gifts, and special shopping times.
Cumberland's routinely shares their fashions through local style shows, including a show for Heartland Bank's Ambassador Club each spring. It has drawn as many as 130 to the historic Geneva Auditorium to watch the 45-minute fashion preview.
Cumberland's relationship with Heartland Bank has continued throughout its history. "The bank and its employees are still as accommodating as they were in 1945," Patty said. In emergencies when Patty is unable to leave the store, bank associates have even brought the change down the street to her when needed.
Patty spots a former Geneva resident, back from Lincoln to shop, flipping through a clothing rack. She heads over to help this customer. Once finished, she continues on saying, "August is just crazy." Husker apparel needs a special display, she travels to the markets in Las Vegas, and this year, she also needs to finalize the store's 70th anniversary celebration. Former Nebraska Attorney General Jon Bruning (Pat Cumberland's grandson) and former Rep. Tom Osborne were there for the store's 60th anniversary.
The 70th celebration is planned for Sunday, Oct. 25. Patty plans to announce more details about the store anniversary soon… "And, maybe some coordinating store improvements," she says with a grin, not willing to reveal any further details.
But don't worry loyal customers, the cash register is not going anywhere.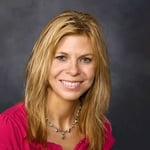 Rebecca is a freelance writer and editor. She graduated from the University of Nebraska-Lincoln with a degree in Journalism and wrote for daily newspapers in Nebraska for ten years. She spent the next decade in Doane College's marketing and communications office. She currently coordinates marketing and social media for an insurance and real estate company in Geneva, Nebraska.
Get the latest news & stories in your inbox!