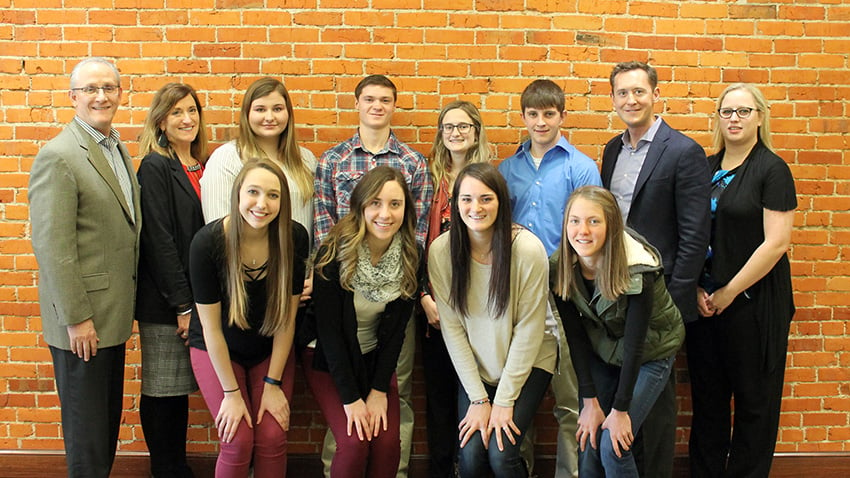 Pictured Above:
Nine

students from Fillmore County high schools were awarded the Earl H. Wilkins Scholarship. (Back row left to right) John Wilkins (Chairman / CEO / President), Jan Stoldorf (Vice President / Geneva Branch President), Ashley Benorden, Kole Karcher, Sydney Jividen, Jacob Swartzendruber, Lucas Swartzendruber (President / Heartland Trust Company), Andrea Mumm (Universal Banker). (Front row left to right) Nichole Swartzendruber, Megan Grote, Catherine Mick, Kelsey Bigelow. Not pictured: Tanner Ourada.
In continued efforts to give back to the communities we serve, Heartland Bank has been providing local students with scholarships for the past 48 years. Named after the first bank president from the Wilkins family, the Earl H. Wilkins Scholarship fund is awarded to graduates in Fillmore County seeking post-secondary education. Administered by the Heartland Trust Company, the scholarship aims to provide financial support for students to flourish in their studies.
"[Receiving this scholarship] helps take that burden of paying for college off my back so I can focus more on school and making friendships that will last after college," Catherine Mick, broad science education major, said.
By helping local students, the scholarship hopes to make education more of a possibility and have these talented individuals return to improve the rural communities.
"[After school] I want to come back to this area somewhere and work in the agricultural field," Jacob Swartzendruber. "I like the small community and everyone around here."
This year's recipients include a variety of studies. The nine students, consisting of freshman and sophomores, are majoring in agriculture, health sciences, education, broadcasting and actuarial science.
"A lot of people think [actuarial science is] just sitting at a desk all day and kind of doing the same thing, but it's really not. You do different projects throughout the year, and you're always trying to go find different information from different people. And sometimes, you have to research it yourself. So just doing a lot of different things, not just the same thing day in and day out, sounded interesting," Megan Grote, actuary science major, said.
Some of the students hope their future careers will provide them the opportunity to give back the way others have for them.
"I originally was pre-health, but then after getting to college and taking a couple of classes I realized that I really wanted to be a teacher," Mick said. "Kind of do for students as [my science teacher] did for me in high school."
Scholarship recipients

Jacob Swartzendruber

Jacob graduated from Shickley High School and is the son of Jon and Linda Swartzendruber. A freshman at the University of Nebraska - Lincoln (UNL), he is currently majoring in agricultural economics with a minor in agronomy. After receiving his degree at UNL, Jacob plans on pursuing a career in agriculture. In his spare time, he enjoys hunting, fishing and working on the farm.

Kole Karcher

Kole is a student at the University of Nebraska - Lincoln (UNL). Enrolled in the college of agricultural sciences and natural resources program, he is studying fisheries and wildlife with an emphasis on habitat management. His future goals are to pursue internships throughout his college years to grow his experience and knowledge about this career. He hopes to be employed out of college as a habitat manager or videographer for wildlife and hunting.

Nicole Swartzendruber

Nicole is a freshman at Wayne State College (WSC). A student in the Rural Health Opportunities Program, she is studying in the pre-physician assistant program. After receiving her bachelor degree at WSC, she will then attend the University of Nebraska Medical Center (UNMC) to obtain her master of physician assistant studies degree. At WSC, she is involved in the Health Sciences Club, Wildcats Investing in Leadership and Diversity (W.I.L.D.), Honors Club and Campus Crusade for Christ (CRU). During her free time, she volunteers with the Special Olympics Bowling Team, plays intramural volleyball and basketball and attends a bible study group.

Sydeny Jividen

Sydney is a 2018 graduate of Fillmore Central High School. She is currently attending the University of Nebraska - Omaha (UNO), majoring in nursing. After attending UNO for two years, she plans to transfer to the University of Nebraska Medical Center (UNMC) to continue her nursing degree.

Tanner Ourada

Tanner is studying biochemistry at the University of Nebraska - Lincoln (UNL). Outside of the classroom, he tutors part-time and volunteers at Lighthouse, an after-school program for at-risk middle and high school students. Tanner is also a mentor for the Nebraska Human Resources Institute (NHRI). In his fraternity Beta Theta Pi, he serves as the scholarship executive. As a member of Medlife, Tanner plans to get hands-on volunteer experience in third world hospitals in addition to providing clean water to impoverished countries.

Megan Grote

Megan has grown up in Shickley and attended Shickley Public Schools for K-12 grades. During that time she was an active member of many clubs and teams. Megan now attends the University of Nebraska - Lincoln (UNL), majoring in actuarial science through the College of Business. While pursuing this major, Megan will also be a part of the Nebraska Business Honors Academy. She plans to complete 3-4 actuarial science certification exams before graduating from UNL. After graduation, she hopes to become employed in Nebraska and finish her exams.

Catherine Mick

Catherine is attending the University of Nebraska - Lincoln (UNL) and pursuing a 7-12 broad science education degree. Once she receives her degree, she hopes to move back to a rural community to be able to teach 7-12 sciences.

Kelsey Bigelow

Kelsey is the daughter of Mark and Becky Bigelow from Milligan, Nebraska. She currently is attending Northeast Community College in Norfolk, Nebraska, majoring in broadcasting. After graduating from Northeast Community College, she plans to transfer to a four-year college to further her broadcasting degree along with double majoring in sports management. Her hope is to one day become a sports sideline reporter or sports analyst for a large company.

Ashley Benorden

Ashley is an Exeter-Milligan High School graduate. She is currently a sophomore at the University of Nebraska - Lincoln (UNL) pursuing a bachelor degree in actuarial science with minors in math and finance. After graduating, she plans to find a job in Nebraska at an insurance firm.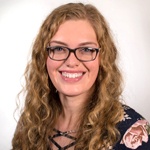 Brianna is the Media Specialist at Heartland Bank. She graduated from Hastings College with a major in Web Communication Design. She enjoys reading, photography, and traveling in her spare time.
Get the latest news & stories in your inbox!