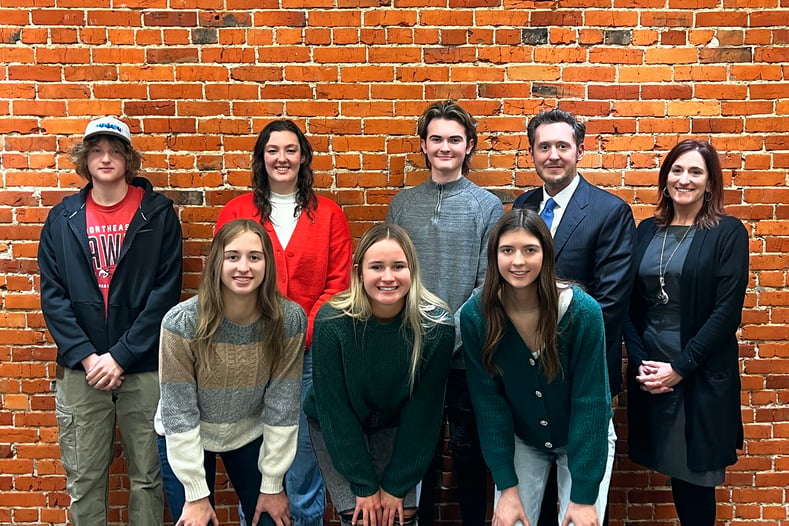 Pictured: (Back Row, left to right) Kellen Wusk | Kaylee Noel | Landon Johnson | Lucas Swartzendruber, President of Heartland Trust Company | Jan Stoldorf, Branch President/Mortgage Relationship Manager
(Front Row, left to right) Taylor Sliva | Abby Nichols | Mariah Sliva
In continued efforts to give back to the communities we serve, Heartland Bank has been providing local students with scholarships for the past 52 years. Named after the first bank president from the Wilkins family, the Earl H. Wilkins Scholarship fund is awarded to graduates in Fillmore County seeking post-secondary education. Administered by the Heartland Trust Company, the scholarship aims to provide financial support for students to flourish in their studies.
By helping local students, the scholarship hopes to make education more of a possibility and have these talented individuals return to improve rural communities. Heartland Bank also sees the positive impact of investing in future generations time and time again.
2022 Scholarship recipients

Abby Nichols

Abby Nichols is from Geneva, Nebraska. She has two siblings; an older brother who goes to UNK and a younger sister who is in eighth grade. She is currently a freshman at the University of Nebraska-Lincoln, majoring in elementary education. Abby attended high school at Fillmore Central and participated in softball, basketball, track, NHS, and student council. She chose elementary education because she loves working with kids and seeing them succeed. Abby also loves shopping, hanging with friends, and watching the Huskers!

Kellen Wusk

Kellen Wusk is attending Northeast Community College and majoring in Building Construction. He is involved in the building construction club and intramural sports. Kellen plans to stay a third year to major in plumbing. With both those majors, he intends to renovate houses and do custom woodworking.

Landon Johnson

Landon Johnson is the son of Tiya and Dirk Johnson of Shickley. He graduated from Shickley High School in May of 2022. He is currently a freshman at the University of Nebraska - Lincoln, majoring in graphic design. Landon was recently selected as a member of the Hixson-Lied College of Fine and Performing Arts student advisory board. He is excited to become more involved with campus student organizations.

Mariah Sliva

Mariah Sliva is from Shickley, NE, and graduated from Shickley High School with the class of 2022. She is currently a student at Doane University pursuing a degree in Math & Data Analytics. Mariah is also a Doane's Volleyball team member and is in their Honors Program.

Taylor Sliva

Taylor Sliva is the daughter of Jerry and Amy Sliva. She has two sisters; twin sister Mariah and younger sister Hayley. Taylor graduated last May with the Shickley class of 2022 as a salutatorian. She currently attends Southeast Community College in Beatrice, where she is a member of the Phi Theta Kappa Honor Society and the SCC Storm Basketball team. Taylor is majoring in accounting and is on track to graduate with her associate's degree next fall. She plans to continue her education at Doane to pursue a Master's degree and eventually become a CPA.

Aaron Mick

Aaron Mick is currently studying Mechanical Engineering with a minor in Mathematics at the University of Nebraska - Lincoln. After he finishes college, he plans on beginning a career in engineering by working in construction.

Kaylee Noel

Kaylee Noel is attending the University of Nebraska at Kearney, where she is pursuing studies in Chiropractic Care. She is involved on campus through her sorority, Alpha Omicron Pi, participating in various intramural teams, and has a job at the wellness center. In addition, Kaylee is making connections on and off campus as she holds a leadership position for New Life Church in Kearney and works at Jersey's Sports Bar & Grill. She plans to finish school at UNK and then attend Cleveland University to become a licensed chiropractor. Once she has completed her schooling, she would love to open up her own clinic.
Get the latest news & stories in your inbox!