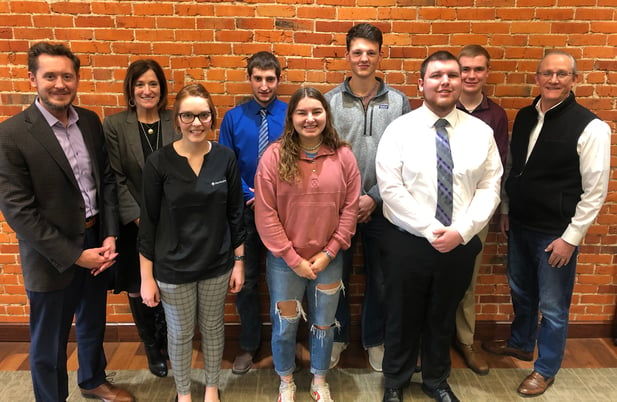 Pictured: (Back, left to right) Lucas Swartzendruber, President of Heartland Trust Company | Jan Stoldorf, Branch President/Mortgage Relationship Manager | Josh Swartzendruber | Jackson Beethe | Hunter Herhage | John Wilkins, President/CEO of Heartland Bank | Front: Beth Sherman, Trust Administrator at Heartland Bank | Jaiden Papik | Zander Johnson | Not pictured: Claire Kimbrough, Haley Korbelik, Jacquelyn Schelkopf, Aaron Mick, Brock Godown

In continued efforts to give back to the communities we serve, Heartland Bank has been providing local students with scholarships for the past 51 years. Named after the first bank president from the Wilkins family, the Earl H. Wilkins Scholarship fund is awarded to graduates in Fillmore County seeking post-secondary education. Administered by the Heartland Trust Company, the scholarship aims to provide financial support for students to flourish in their studies.
By helping local students, the scholarship hopes to make education more of a possibility and have these talented individuals return to improve the rural communities. Heartland Bank also sees the positive impact of investing in future generations time and time again.
2021 Scholarship recipients

Alexander Johnson

Zander Johnson attends the University of Nebraska - Lincoln, majoring in Business Administration. Before college, Zander attended Fillmore Central Public Schools, where he active in Speech, Mock Trial, and Band. While at UNL, he plans on securing an internship in business. After graduating, he plans to utilize his degree to find success in one of the companies he interns for.

Claire Kimbrough

Claire attends Hastings College and is majoring in Accounting. She's involved in softball, Chi Omega Psi, FCA, and Student Athlete Advisory Committee. Upon graduation, she plans to use her Accounting degree to work on the financial side of the medical field.

Haley Korbelik

Haley is a freshman at the University of Nebraska in Lincoln, majoring in Animal Science with the Veterinary Science option. After graduating from UNL, she plans to attend vet school in Iowa, and open a mixed practice veterinary clinic.

Jacquelyn Schelkopf

Jackie is currently attending Hastings College, studying Biology with a Pre-Med intent. She also plays women's basketball for the Broncos.

Hunter Verhage

Hunter Verhage is currently a freshman at the University of Nebraska at Kearney, majoring in Middle-Level Education in Social Science and a minor in Interscholastic Coaching. He's active in the Teachers Scholars Academy, intramural sports, the United Campus Ministry, and the Collegiate Middle-Level Association. When he graduates college, Hunter plans to become a middle school teacher in a rural community in Nebraska.

Aaron Mick

Aaron Mick is currently a freshman at the University of Nebraska - Lincoln, and is currently studying Mechanical Engineering. After receiving his degree, he plans on moving back to a rural community and pursuing a career in Engineering.

Jackson Beethe

Jackson is currently attending the University of Nebraska-Lincoln, majoring in Ag Business with a Farm and Ranch Management option.

Jaiden Papik

Jaiden attends Doane University in Crete, Nebraska - where she earned a 4.0 GPA in her first semester. Her major is currently undecided but plans to either declare Spanish Secondary Education or Pre-Nursing as her major. At Doane, she's involved in the Doane Athletic Training program, Fellowship of Christian Athletes, Agriculture Club and Spanish Club.

Brock Godown

Brock attends the University of Nebraska - Lincoln, majoring in Music Education and studies at the Glenn Korff School of Music. He's involved in The Cornhusker Marching Band, Pep Band, Symphonic Band, and Varsity Chorus.

Josh Swartzendruber

Josh graduated from Shickley High School, and is a sophomore at the University of Nebraska Lincoln. He is majoring in Agronomy with a Business option with a minor in Ag Business. After receiving his degree at UNL, he plans to pursue a career in agriculture. In his spare time, Josh enjoys hunting, fishing, and working on the family farm.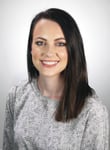 Sarah is the Media Specialist at Heartland Bank. She graduated from Nebraska Wesleyan University with a degree in Communication Studies. Sarah enjoys spending time with her family and friends and organizing and decorating her home.
Get the latest news & stories in your inbox!