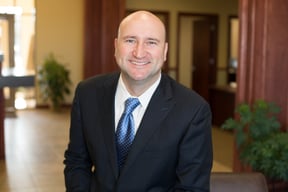 Financial Advisor
Email: tyler.daly@raymondjames.com
Tyler has been in the financial services industry since 2004 and with Raymond James and Heartland Bank since 2009. He is Series 7, 66 and Insurance licensed to assist his clients with all their investing, financial planning, and insurance needs. Tyler was recently named to the Forbes List of America's Top Next-Generation Wealth Advisor, which recognizes advisors from national, regional and independent firms.
Tyler graduated from the University of Nebraska-Lincoln with a Bachelor's Degree in Diversified Agriculture and was born and raised in the Nebraska Sandhills. This gives him an intimate knowledge and understanding of his farming and ranching clients.
Tyler is married to Rachel, who earned her Doctorate of Pharmacy from the University of Nebraska. They have two children, Camilla and Cooper. Away from business, he enjoys officiating high school basketball in the winter as well as golfing and team roping in the summer.
Check the background of this investment professional on FINRA's Broker Check.
Data provided by SHOOKTM Research, LLC as of 3/31/2019. SHOOK Research considered advisors born in 1980 or later with a minimum 4 years relevant experience. Advisors have built their own practices and lead their teams; joined teams and are viewed as future leadership; or a combination of both. Ranking algorithm is based on qualitative measures derived from telephone and in-person interviews and surveys: service models, investing process, client retention, industry experience, review of compliance records, firm nominations, etc.; and quantitative criteria, such as assets under management and revenue generated for their firms. Investment performance is not a criteria because client objectives and risk tolerances vary, and advisors rarely have audited performance reports. Rankings are based on the opinions of SHOOK Research, LLC. Neither SHOOK nor Forbes receives compensation from the advisors or their firms in exchange for placement on a ranking. Raymond James is not affiliated with Forbes or Shook Research, LLC. This ranking is not indicative of advisor's future performance, is not an endorsement, and may not be representative of individual clients' experience. Out of 6,389 advisors considered, 1,489 made the final list in 2019. For more information see www.SHOOKresearch.com.About Raymond James Financial Services
*As of 07/31/2019. Past performance is not an indication of future results. The information provided is for informational purposes only and is not a solicitation to buy or sell Raymond James Financial stock. Raymond James Financial Services, Inc. is a financial services firm supporting independent financial advisors nationwide. Since 1974, Raymond James Financial Services Inc., member FINRA/SIPC, has provided a wide range of investment and wealth planning related services through its affiliate, Raymond James & Associates, Inc., member New York Stock Exchange/SIPC. Both broker/dealers are wholly owned subsidiaries of Raymond James Financial, Inc. (NYSE-RJF) a leading diversified financial services company with approximately 7,900 financial advisors throughout the United States, Canada and overseas. Total client assets are $831 billion. About the Financial Institutions Division
The Financial Institutions Division was established by Raymond James in 1987 to provide banks and credit unions with an alternative to traditional third-party investment providers. Raymond James provides full-service securities brokerage and advisory services to financial institutions seeking to compete with the largest banks and securities firms in the country. In addition to a full complement of investment products and services, Raymond James has the ability to deliver investment banking, public finance, research, self-clearing capabilities and wealth management services to both individuals and institutions. © 2019 Raymond James Financial Services, Inc., member FINRA / SIPC. Securities offered through Raymond James Financial Services, Inc., member FINRA / SIPC, and are not insured by any financial institution insurance, the FDIC/NCUA or any other government agency, are not deposits or obligations of the financial institution, are not guaranteed by the financial institution, and are subject to risks, including the possible loss of principal. The financial institution and the investment center are not registered broker/dealers and are independent of Raymond James Financial Services. Investment advisory services offered through Raymond James Financial Services Advisors, Inc.