The first time the home caught their eye, Dr. Michael and Connie Hein were biking a favorite back road near Doniphan, Nebraska.
Something about it - or maybe everything about it - captured their imagination. Their thoughts would return again and again to the elegant two-story Victorian, with a turret, wrap-around porch, beautiful landscaping and adjacent historic barn.
The couple didn't know it, but they had just become part of the long history of the 1873 property.
The house crept into their conversations, even though they weren't thinking about selling their own in Grand Island, a larger, completely finished house in a great location.
A real estate mini-saga began. The house by Doniphan came up for sale, but the Heins felt the timing wasn't right. The Victorian home went back off the market, but stayed in the Heins' mind.
They loved its history and rural setting. "We've always enjoyed old homes... You are part of that unfolding story of the home and that attracted us," Dr. Hein said.
Even better, extensive renovation had given the home modern advantages while still fitting the period charm. Moved to its current site in the late 90s, the home is centrally located between family in Hastings and their jobs in Grand Island.
The Heins returned to the house. They toured. Asked questions. Inched closer to the empty-nest stage, with two grown daughters and a son about to graduate from high school.
Months passed.
Finally, they decided the gracious old home was looking for them and they belonged there.
Now they needed a lender who could navigate their unique situation. The Heins wanted to buy the Doniphan home before selling their own to begin construction projects to put their own touch on the house.
They are far from rookies when it comes to real estate, having moved numerous times to numerous states for Mike's career. First, as a swimming and diving coach and then for his education, practice and leadership roles as a physician and administrator. They knew what they needed and knew it wasn't the kind of loan they could find online, no matter what advertisements promise.
"We were looking for a local bank where we could sit down, across the desk and have a face-to-face conversation," Dr.Hein said.
A referral led them to Daunia J. Lemke, Assistant Vice President and Mortgage Relationship Manager at Heartland Bank in Hastings.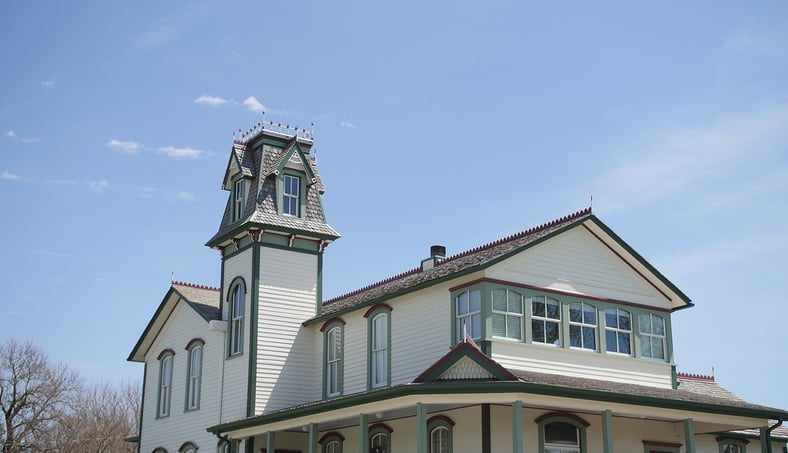 The house was built by David Fleming Jamieson, a Scottish immigrant who farmed and owned properties and businesses in the Grand Island area. It is thought to be the oldest wood-frame house in Hall County.

She 'got' them: Dr. Hein and his detailed, analytical side; Connie who was calm throughout the process and made their meetings easygoing. Daunia also understood what they were trying to do, the couple said.

She matched them with a bridge loan to span the gap between the purchase of the new house and the sale of their previous home. It included funds to add an outdoor living space, a wine cellar, a media room and to make minor kitchen renovations.

"Not everyone can do that. In the Heins' situation we knew the equity they would have from the sale of their home," Daunia explained.

Heartland Bank made the process easy for the Heins. Plus, the Heins also contributed to their own success according to Daunia. Dr. Hein arrived with the details and numbers a lender needs, Daunia said, such as solid estimates for the planned construction projects and the values of both properties

Daunia advises others to follow the Heins' path. "Talk to your lender and get a level head on the budget and what you can afford to do to the house…You don't want to get into something that creates a payment you can't afford."

Connie and Dr. Hein credit Daunia as well and the personalized relationship that took their ideas from paper to a dream home. "We wouldn't have been able to do this with a lot of lenders or without that personal touch," Connie said.
Making it a home.
They moved in mid-May, adding their own history to the home.
The home has already become their place of serenity; of coffee on the porch in the morning and sunsets to soak up at night. They picture grandchildren in the backyard and football Saturdays in the media room.
They are in the scene they first saw on a bike ride, and want to be worthy caretakers for whoever follows.
"We knew we wanted this to be… maybe not a forever home... but one where people come and be together. This is a house that needs to be shared," Dr. Hein said.
---
Home Buyer's Guide to Trading Up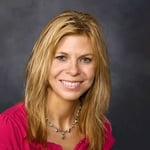 Rebecca is a freelance writer and editor. She graduated from the University of Nebraska-Lincoln with a degree in Journalism and wrote for daily newspapers in Nebraska for ten years. She spent the next decade in Doane College's marketing and communications office. She currently coordinates marketing and social media for an insurance and real estate company in Geneva, Nebraska.
Get the latest news & stories in your inbox!