Brandon and Kacee Thompson walked into the Geneva branch of Heartland Bank as potential first-time home buyers.
They weren't looking to buy a first home, though. They wanted to find their 'forever home.'
As new parents with college behind them, renting had run its course. It was time to convert a bedroom to a nursery or rip down funky wallpaper without asking permission. But once a house became their home, holding memories for their baby, Elyse, they knew they wouldn't want to move again.
The Thompsons turned to Mortgage Relationship Manager Jan Stoldorf to navigate the unfamiliar home loan path.
"The process was a complete mystery to us," Brandon said. Jan earned the couple's trust when they chose Heartland Bank for a vehicle loan.
"We also talked about buying a house. She ran some numbers and told us what (the bank) would be comfortable with," Kacee said.
Brandon and Kacee made some ideal decisions, according to Jan:
They started early and did extensive research.
They made a financial plan and stuck with it.
They were patient.
Patience wore thin in those stretches when it seemed there wasn't a house to suit both. Kacee wanted character. Brandon wanted unique. Nothing clicked until they toured the two-story beauty on a quiet street in Geneva, close to their friends and daycare.
The 1895 classic home just fit them – an Exeter native and an Arizona transplant who met at the University of Nebraska at Kearney; young professionals who wanted their baby girl to grow up in the shelter of a small town.
Kacee loved the home's woodwork and how the natural light turned the front room golden. The finished basement appealed to Brandon, along with ample space throughout, including four bedrooms. (Not to mention the backyard where Brandon pictures a pool, but Kacee doesn't share this vision yet.) "…Not sure about that," she countered.
After touring the home, they called Jan who put them at ease as she walked them through each step of the home mortgage and closing process.
With Kacee working in the York County Public Defender's office and Brandon's job at Geneva's Youth Rehabilitation and Treatment Center, they often contacted Jan by text or email.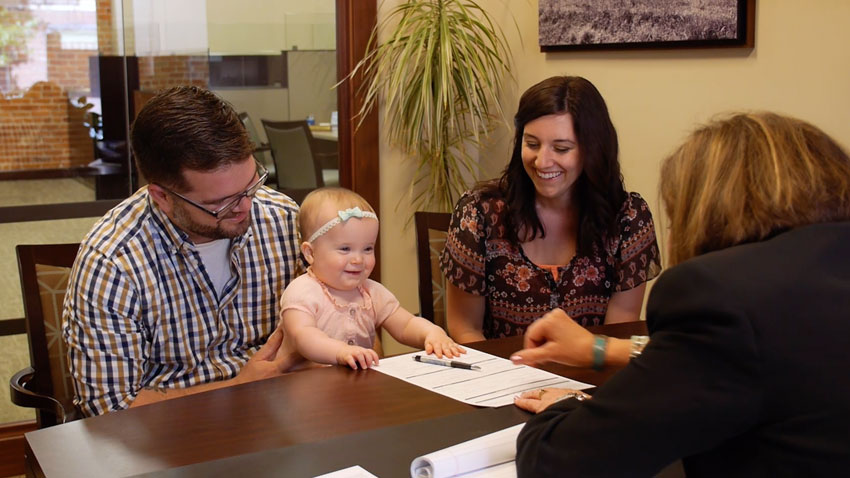 Other times "we were in her office with our 6-month-old squirmy baby. She was so kind and patient," Kacee recalled. "…Professional and knowledgeable, but yet someone who cared, someone who treated you like a friend and who wanted what was best for you."
Jan, who is the Geneva Branch President, matched the couple with a Rural Development Loan that included a minimal down payment. Through the loan and favorable closing terms on the house, they were able to recoup nearly all of the down payment funds.
"It's so rewarding for me to help couples like this," Jan said. "It makes you feel like you are making a difference."
She gave Elyse a teddy bear at closing. The Thompsons sent a thank-you note with a picture of Elyse looking out a window of their new home.
Finding a house is like finding your future, the couple realized early on.
"One thing Brandon said during this process that I really liked was: 'You know, if this all turns out, this will be the only house that Elyse knows,'" Kacee remembered.
A forever home.
---
First-Time Home Buyer's Guide
If you're thinking about buying your first home, a great place to start is with our First-Time Home Buyer's Guide, which provides all sorts of advice, tools and tips for the home buying journey. It will give you a clear picture of what to expect all along the way. View or download the guide today for the information you need to make a sound financial decision.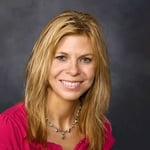 Rebecca is a freelance writer and editor. She graduated from the University of Nebraska-Lincoln with a degree in Journalism and wrote for daily newspapers in Nebraska for ten years. She spent the next decade in Doane College's marketing and communications office. She currently coordinates marketing and social media for an insurance and real estate company in Geneva, Nebraska.
Get the latest news & stories in your inbox!