When Robyn Ready was eight-years-old, trick-or-treating in her hometown in Iowa, the stately, historical homes were always her favorite.
"I would dream about living in a house like that," she remembered.
As Robyn walked up to a home in York as she and husband, Jason searched for their new house, she felt like her dream might be coming true.
With its Craftsman details, brick cladding and spacious front porch, it fit the ideal of eight-year-old Robyn and adult Robyn, too. Standing on its brick street with wide setbacks and trees that turned glorious colors in the fall..."It was pretty amazing. I had dreamed about getting a house like this," she said.
It meant Jason's first house choice was out. But he's OK with that, he said; once they moved in he grew to love it.
Robyn gets credit for another smart decision, he said - to turn to Heartland Bank and Geneva Branch President and Mortgage Relationship Manager Jan Stoldorf for their home loan. Jan helped Robyn with a previous mortgage loan for a home in Geneva.
"The first time I came in to buy a home, I was totally clueless. I didn't even know if I could own a home by myself. Jan connected me with first-time homeowner programs that got me in the door," Robyn recalled. "Jan provided not only financial support but emotional support. A new homeowner needs that because it is a scary and overwhelming process."
In the end, the two experiences with Heartland Bank were completely different but with the same successful ending. The Readys married in 2015 and by 2017 needed to find a home to fit their blended family. A second marriage for both, their combined family includes two daughters, ages 2 and 14, and five grown sons.
They began searching properties in York, liking its schools and proximity to their jobs with United Healthcare and Tabitha Health Care Services. In the meantime, Jan helped them determine an ideal purchase price and worked with Jason to fix a credit issue.
I had cosigned a loan for someone who didn't fulfill the note...I had been paying on it, but it still created a red flag. I negotiated with the company to make a one-time payment and get it taken care of," Jason explained.
He appreciated the knowledge and direction Jan provided. "She tells it how it is and doesn't sugarcoat it. So we knew exactly what we needed to do and took care of it quickly. With her help, we were able to get into the house within four months."
Once they found possible homes they liked, Jan's accessibility was essential. They would look at homes in the evenings, write down questions and contact Jan the next morning. "She answered very quickly," Jason said.
From the start, the couple sought different features in a home. Robyn wanted history and spirit (and at least four bedrooms), while Jason placed value on a well-kept home -- and if it came with a nice garage and fireplace, even better.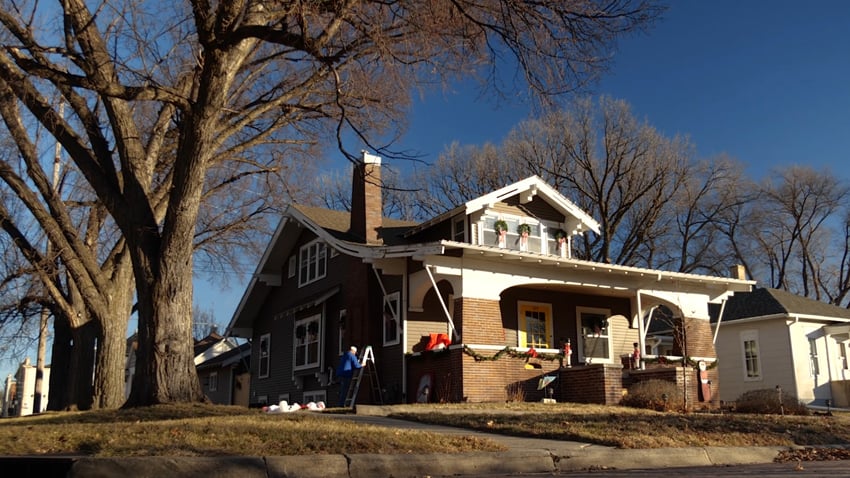 Their house in central York provided six bedrooms, room to entertain and great neighbors, they said. The Craftsman bungalow sprawls across their corner lot. It boasts 10-foot ceilings, original hardwood floors, built-in cabinets from its era and 32 windows with stained glass, which they are fairly certain were created by a former owner. The front room with its hardwood floor and large windows has become a favorite gathering space.
They both love its craftsmanship and history. Jason is still doing research, but so far has learned the home was likely built around 1915 and in its former life was home to a veterinarian. At some point, it was rented as a triplex.
They advise potential home buyers to take their time and resist being impulsive. Make sure you really love a house and know exactly what you are buying, they urge. On the financial side, Jason said, "Make sure you talk to your lender first and get an idea of what you can afford. It not only helps filter some of the homes you look at, but real estate agents appreciate it too."
"Helping Robyn with two home loans was enjoyable," Jan said. "There is nothing more rewarding than helping customers purchase their perfect home."
---
Home Buyer's Guide to Trading Up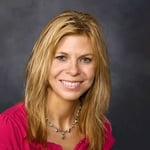 Rebecca is a freelance writer and editor. She graduated from the University of Nebraska-Lincoln with a degree in Journalism and wrote for daily newspapers in Nebraska for ten years. She spent the next decade in Doane College's marketing and communications office. She currently coordinates marketing and social media for an insurance and real estate company in Geneva, Nebraska.
Get the latest news & stories in your inbox!