Last week was epic for market-watchers. A Federal Reserve (Fed) rate hike, a much-anticipated gross domestic product (GDP) report, and the busiest week of earnings season got most of the headlines. There was even a surprise out of Washington D.C., with a Schumer-Manchin agreement on a climate-healthcare-tax bill and some inflation data that added to the evidence that inflation has peaked.
Stocks expressed approval of this news, securing its second straight solidly positive week. The S&P 500 Index enjoyed its best month since November 2020 and its best July in over 80 years. Last week's gains were encouraging. Let's look at each piece of news individually.
First, the Fed hinted at slowing the pace of interest rate hikes later this year. Whether markets may have gotten a little ahead of themselves remains to be seen, but in the past six weeks, nearly three-quarters of a percent has come out of the market's expectation for the peak fed funds rate (the short-term rate controlled by the Fed to affect monetary policy). The inflation battle is far from over, but the market's reaction was encouraging, and the Fed may be poised to surprise the market with a pause by year-end.
Next, the first read on second quarter GDP revealed the U.S. economy contracted for the second straight quarter. The rule of thumb is two quarters of negative GDP defines a recession, but the official definition by the National Bureau of Economic Research is broader than that. With a strong, even if slowing, job market and resilient consumer spending, we believe not enough sectors of the economy are contracting to qualify as an official recession. If a recession comes—probably a 50-50 proposition for the first half of 2023—it will likely be mild. A mild recession was probably already priced in at the June stock market lows, suggesting June 16 may mark the S&P 500's ultimate low.
Capping off the busy week, the flurry of earnings reports demonstrated that corporate America has managed stiff headwinds effectively. Given the slowing economy, intense cost pressures, and a strong U.S. dollar clipping foreign-sourced profits, a 6% year-over-year increase in S&P 500 earnings per share during the second quarter is quite impressive. Estimates for the second half of 2022 and 2023 have come down as expected, but with expectations so low, stocks generally rallied on results even as estimate were cut.
Looking ahead, August has historically been a weaker month for stocks. But consider that midterm election year lows, which typically come around this time on the calendar for the S&P 500, have historically been followed by an average gain of over 30% over the subsequent 12 months. Moreover, some of the timeliest indicators of inflation, such as commodity prices and various consumer and business surveys, indicate some cooling ahead, even if it may be a slow process. Market-based interest rates—those not controlled by the Fed—have come down quite a bit, supporting stock valuations.
At the same time, geopolitical tensions are rising as House Speaker Nancy Pelosi visits Taiwan and the war in Ukraine continues. But we believe the combination of low valuations, lower interest rates, prospects for inflation reducing, and the possibility that the Fed signals a pause over the upcoming months tip the scales toward the bulls. The ride probably won't be smooth, but we believe long-term investors who stay the course won't have to wait too long to be rewarded for their patience.
____
Check the background of this investment professional on FINRA's Broker Check. Securities and advisory services are offered through LPL Financial (LPL), a registered investment advisor and broker-dealer (member FINRA/SIPC). Insurance products are offered through LPL or its licensed affiliates. Heartland Bank and Sandstone Wealth Management are not registered as a broker-dealer or investment advisor. Registered representatives of LPL offer products and services using Sandstone Wealth Management, and may also be employees of Heartland Bank. These products and services are being offered through LPL or its affiliates, which are separate entities from, and not affiliates of, Heartland Bank or Sandstone Wealth Management. Securities and insurance offered through LPL or its affiliates are: Not Insured by FDIC or Any Other Government Agency | Not Bank Guaranteed | Not Bank Deposits or Obligations | May Lose Value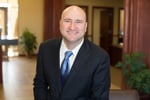 Tyler has been in the financial services industry since 2004 and with Sandstone Wealth Management and Heartland Bank since 2009. He is Series 7, 66 and Insurance licensed to assist his clients with all their investing, financial planning, and insurance needs. Tyler was recently named to the Forbes List of America's Top Next-Generation Wealth Advisor, which recognizes advisors from national, regional, and independent firms. Tyler graduated from the University of Nebraska-Lincoln with a Bachelor's Degree in Diversified Agriculture and was born and raised in the Nebraska Sandhills. This gives him an intimate knowledge and understanding of his farming and ranching clients. Tyler is married to Rachel, who earned her Doctorate of Pharmacy from the University of Nebraska. They have two children, Camilla and Cooper. Away from business, he enjoys officiating high school basketball in the winter as well as golfing and team roping in the summer.
Get the latest news & stories in your inbox!