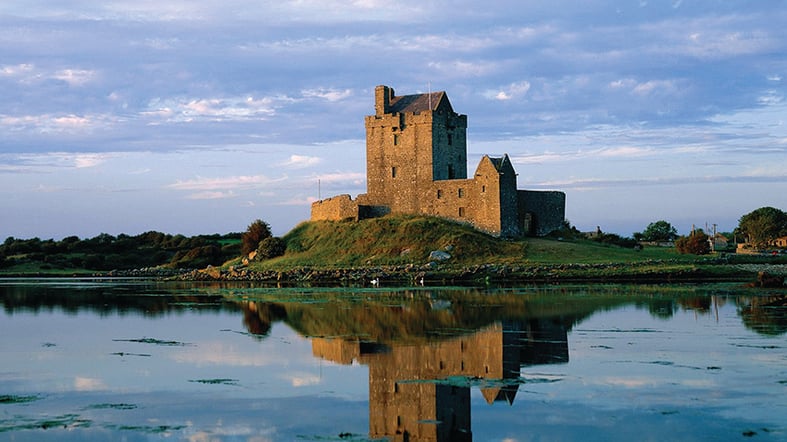 The holiday season is once again upon us, and before we know it, 2017 will be here! We had some fabulous events this past year and have even more marvelous plans for 2017. One of our favorite trips this year was the beautiful trip to Ireland. We thoroughly enjoyed the different shades of green, amazing castles and the friendly people of Ireland. It doesn't matter where we are traveling or what we are doing, it is always you, the wonderful travelers who make the trips so pleasurable.
I have witnessed you zip-lining, water rafting and even kissing a Blarney Stone. No matter what trip you are on, your courage to try new things is what makes the trip special.
I hope you will sign up for some of our upcoming trips and events as soon as possible. This gives us a good idea of how many are interested. Thank you so much for traveling with the Ambassador Club!
---

Hastings Monthly Coffee
Tuesday, January 3rd
Friday, February 3rd
Friday, March 3rd
Monday, April 3rd
Wednesday, May 3rd
Friday, June 2nd
Monday, July 3rd
Thursday, August 3rd
Friday, September 1st
---

Kearney Monthly Coffee
Tuesday, January 10th
Tuesday, February 14th
Tuesday, March 14th
Tuesday, April 11th
Tuesday, May 9th
Tuesday, June 13th
Tuesday, July 11th
Tuesday, August 8th
Tuesday, September 12th
---

Free Movie Day!
January 29
Escape the cold for an afternoon and join us to watch Collateral Beauty, starring Will Smith, at the Rialto Theater in Geneva!
About the Movie: Retreating from life after a tragedy, a man questions the universe by writing to Love, Time and Death. Receiving unexpected answers, he begins to see how these things interlock and how even loss can reveal moments of meaning and beauty.
Time & Location: 2:00 pm at Rialto Theater, 162 N 9th St. Geneva, NE
---
Identity Theft
February 23
Ryan Sothan, the Consumer Protection Division's education and outreach coordinator, travels throughout Nebraska informing consumers about Internet safety, identity theft, senior fraud, and a variety of other topics to help consumers protect themselves. This event is opent to the public.
Time & Location: 6:30 p.m. at Rialto Theater, 162 N 9th St. Geneva, NE
---

Mamma Mia!
March 4th
A Mother. A Daughter. 3 possible Dads. And a trip down the aisle you'll never forget! Have the time of your life at this smash-hit musical that combines ABBA's greatest hits, including "Dancing Queen," "S.O.S.," "Take A Chance on Me" and "The Winner Takes It All," with an enchanting tale of love, laughter and friendship.
Depature: 10:30 am at the East Bull Pen in Geneva
Price: $100 - includes ticket, transportation, lunch, tips and taxes
---

Cumberland's Style Show
Come and enjoy a 45-minute fashion preview of the latest fashions available at Cumberlands Fashions.
Cumberlands Fashions sells accessories and clothing in petite, missy and womens sizes. Some of the lines they carry include Tribal, City Girl, Alfred Dunner, Ruby Road, Multiples and Slimsations, Southern Lady, Picadilly, Christine Alexander, Spanner, Conrad C, Blue Willi's, FDJ French Dressing, Life is Good, Foxcroft, Caribbean Joe, Forecaster coats and many more.
Time & Location: 2:00 p.m. at the Rialto Theater, 162 N 9th St. Geneva, NE
---

Stroke Detection
Recieve four life-saving screenings and learn the signs of watching for a stroke.
Kearney: April 11th, 9:00 - 4:30 at the Ramada Inn & Conference Center
Geneva: April 12th, 9:00 - 4:30 at Heartland Bank
Hastings: April 13th, 9:00 - 4:30 at the Masonic Center
---

Mother's Day Flowers
Shickley Branch: May 10th, 9:00 - 3:00
Grafton Branch: May 11th, 9:00 - 11:00
Fairmont Branch: May 11th, 9:00 - 2:00
Geneva Branch: May 12th, 9:00 - 3:00
---

Route 66 Memories
June 21 - 25
Travel on original sections of Route 66 while historians share the stories of "The Mother Road."

Highlights: "Sidewalk Highway," "Tow Mater," Neon Sign Demo, Ed Galloway's Totem Pole Park and more!

Cost: $1,020 Single Occupancy, $825 Double Occupancy, $782 Triple Occupancy

Includes: Hotel accommodations for four nights, transportation, baggage handling, admission fees for attractions, meals and all taxes and gratuities
---

The Magical Rhine and Moselle
August 25 - September 3
We have experienced extremely high demand for this wonderful River Cruise experience. Space is limited. A travel show is coming, but for more information now, contact Sheila Smith.
Deposits are now being accepted to guarantee your spot. Don't delay and miss out on this amazing trip!
Highlights: Amsterdam, Cologne, Moselle River, Wine Tasting, Koblenz, Ruesheim, Sigfried's Mechanical Music Museum, Mannheim, Strasbourg, Basel and more!