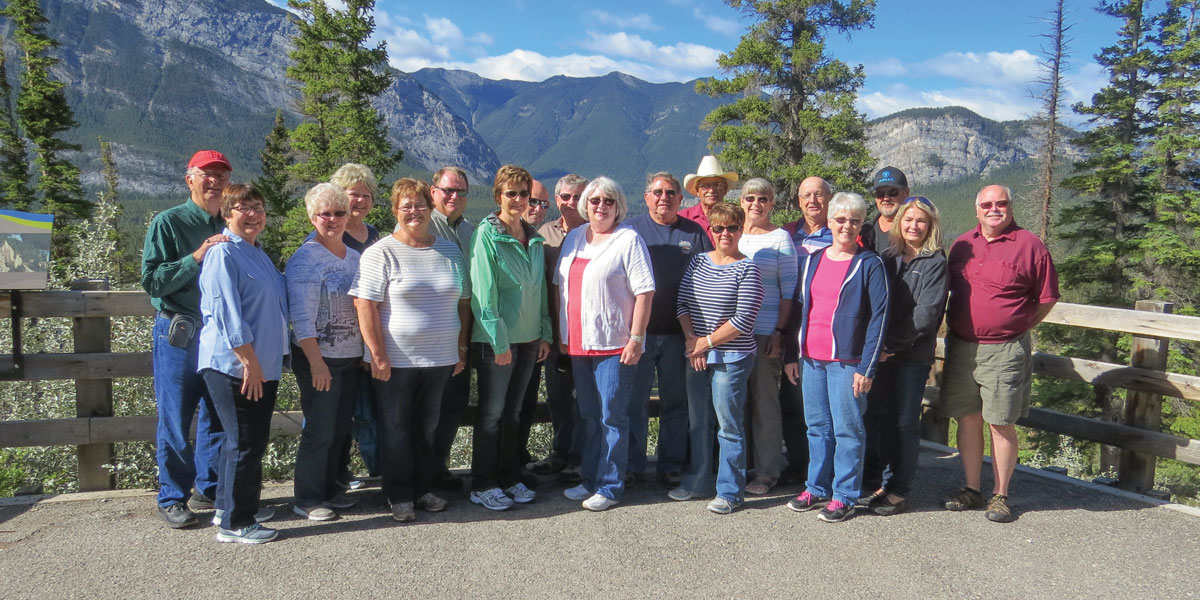 As the saying goes, "Time flies when you are having fun." Wow, I can't believe that 2015 is more than half gone, and I am already working on the 2016 calendar. It has been an exciting year, and I would like to thank everyone for your support. Listed below are the final Ambassador Club events of the year as well as some of the highlights that are planned for 2016. We will also be displaying new event fliers at your local Heartland Bank branch with more information on these trips.
The group photo above was taken during the Canadian Rockies by Train trip earlier this summer. Click here to view more photos from this trip on our bank's Facebook page.
---

Amish Lifestyle & More
September 19, 2015
Departure: Depart Geneva at 7:00 am
Price: $112.00
Deadline to Sign Up: August 19th
Highlights: Harold Lloyd House and Museum, Pedal Car Class, Amish Lunch, Buggy Ride, Sustainable Farm Tour, and Bison Farms
---

Ladies' Day Out
October 22-23, 2015
Ladies, this is what you have been asking for. Kansas City, here we come! Please join us for two days of shopping, food, and fun.
Price: $325 Single, $265 Double, $245 Triple
Deadline to Sign Up: September 21st
Highlights: Holiday Mart, Country Club Plaza, Dinner Theater, Crown Center, and Pryde's of Old Westport
---

Country Christmas Party
November 12, 2015
Time & Location: 6:00 pm at St.
Joseph Catholic Church in Geneva
Cost: $10.00
Entertainment: Billy Troy, American country and bluegrass producer, singer, and songwriter
A Little Bit About Billy Troy: Billy's memorable performances, unique vocals, and meaningful music has grown and sustained his fan base. His songwriting skills overflow with heart and soul, leaving audiences with a sense of connection to the catchy lyrics and underlying meanings.
Billy's music and productions have been featured in the Lion King show at Walt Disney World, the Macy's Thanksgiving Day Parade, Disney's Hollywood Studios Streetmosphere, the Weather Channel and national radio broadcasts. In addition, he has hosted numerous events, including Muscular Dystrophy Association and Labor Day telethons, Mrs. Tennessee pageants, and Gene Watson's Texas Road Show.
---

Kearney Monthly Coffee
September 8th: Speaker is Rita Horst of the Kearney Public Library
October 13th: Speaker is Denise Zwiener of the Buffalo County Community Partners of Kearney, will be
giving a presentation focusing on an
upcoming competition to discover
"America's Best" city
November 10th: Speaker is Ryan Sothan of the Nebraska Attorney General's Office
December 8th: No speaker
---

A Cinderella Fairytale
March 19, 2016
Rodger's & Hammerstein's Cinderella is "the World's most treasured fairytale."
Time & Location: 2:00 pm Matinee at the Orpheum theater in Omaha
Price: $130.00 - includes transportation, lunch, ticket, taxes, and gratuity
---

Additional 2016 Events
August: Tour of Ireland
June 2nd - 7th: Tour of West Virginia
One Day Mystery Trip: Where are we going on an adventure? The only clue you have is, "Don't WINE about it."
*2016 event dates and information will be available at your local branch
Sheila is the Ambassador Club Director and a Drive-Thru Teller at the Geneva Branch. She has been with Heartland Bank for 14 years and enjoys entertaining her grandkids, working in the garden and traveling with her husband.
Get the latest news & stories in your inbox!