Finding a Way Through the Highs and Lows of Agriculture.
Jeff Row doesn't need charts or data to recall the highs and lows of his 36 years of farming. They are etched in his mind and his heart.
He joined the family farm operation in 1980, just in time for the worst agricultural crisis since the Great Depression.
Farm families who lived through it know the feeling. They understand exactly why Jeff remembers the chairs in the bank office at the time – with their green vinyl covers and wrap-aroundarm rests. Jeff vividly remembers these as he sat listening to his father, Doug, and the banker. In the '80s, bank offices were the place where the world shrunk down to numbers, and a way of life hung in the balance. So, one easily remembers the details.
"The financial environment was crazy. [Farms] were dropping like flies all around us," Jeff recalled. "We didn't go anywhere. We didn't buy anything. We didn't do anything but work and worry about going broke."
Learning from Experience
He'd wanted to farm since he was old enough to walk around the yard, but it wasn't guaranteed in those early years. He believes a strong faith and God's will helped their farm survive. But it also helped to take a page from his grandfather, J.W. Maust, and his "100 mph work ethic." J.W. farmed through the Great Depression, raising registered cattle, hogs and chickens, and selling gas from a fuel pump in his yard.
"He did whatever he needed to do to make ends meet…and we are in that boat today," Jeff recalls about his grandfather.
Bear Creek Farms (the farm's incorporated name) is home to four families and three generations, all seeking a living from roughly 1,400 acres of land south of Shickley, Nebraska.
"We really have enough land base for one family, maybe two… But we made a commitment to keep people here if they want to be," Jeff mentions.
That includes Jeff's brother Mike; Jeff's wife Sally; her son Jeremy [24], who handles the livestock side of the business; and their son, Ben [20], who just returned to the farm this year.
The Rows rely on diversification to succeed in the challenging farm economy, with crop prices hovering at or below break-even points financially.
In addition to raising corn and soybeans, the Rows operate a 900-head feedlot, sell seed and do custom haying and baling. This included 1,600 corn and soybean stubble bales last fall. They custom drill cover crops and sell alfalfa commercially. They also custom-plant soybeans through Norder Supply, Inc.
"We do a little of everything to keep the lights on." It brings extra income and a steadier cash flow.
Looking at the Big Picture
"Agriculture will always be cyclical," Jeff says with an accepting shrug. In the last 12 years, corn prices have slumped below $2 per bushel and ascended to more than $8 per bushel. "[Eight-dollar corn] was almost like taking your crop and selling it twice," he says to give perspective.
He knew it wouldn't last. His family has ridden the agricultural roller coaster from the days of horse-drawn equipment to the front-wheel assist and auto-steer tractors of today. When generations work together, it adds strength in his eyes, combining experience with fresh ideas. His grandfather and father taught him to be steady yet open to new opportunities, reminding Jeff to lift his head from farming's day-to-day rhythm in order to see the big picture.
Spring will come soon enough, his favorite time on the farm. It brings a fresh chance and a burst of optimism.
Jeff doesn't expect agriculture to make him rich, yet on the best of days he feels he already is. He sees Jeremy in the yard, and it reminds him he's lucky enough to work with his children-turned-adults. He remembers that these acres provided enough stability in a bumpy world to pay for college educations. Even in a poor ag economy, he feels there are blessings to count, like good landlords and supportive spouses who contribute much, putting up with crazy hours and circumstances.
A good financial partner also makes his list, and Heartland Bank has been theirs for more than 60 years.
Jeff tells a story about his dad, who needed a loan in the 1950s. "He got turned down all around," before visiting then-Geneva State Bank.
Bank President Earl Wilkins said, "Young man. This is an awful lot to bite off. Do you think you can do it?"
His dad replied confidently, "Yes, I can."
He received the loan, and the lights on the family farm stayed on.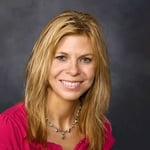 Rebecca is a freelance writer and editor. She graduated from the University of Nebraska-Lincoln with a degree in Journalism and wrote for daily newspapers in Nebraska for ten years. She spent the next decade in Doane College's marketing and communications office. She currently coordinates marketing and social media for an insurance and real estate company in Geneva, Nebraska.
Get the latest news & stories in your inbox!